Measuring Tips
Genuine Hypervent is $12.50 per linear foot. Call 206-783-1696 to order.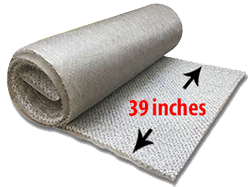 We sell genuine HyperVent by the linear foot. It's 40 inches wide. If your mattress is 40 inches or less in width, apply the HyperVent lengthwise (see below).
If your mattress is wider than 40 inches apply the HyperVent in sections crosswise. For example, if your mattress is 54 x 75, a single 40 inch sheet won't be wide enough (see below). You'll have to cut the sheet in two and apply it crosswise. If you don't know how much to order, measure your mattress then give us a call.
For standard size mattresses, such as Twin and Queen, consult the chart below. Some manufacturers may use slightly different dimensions, so be sure to take your own measurements before ordering.